| | |
| --- | --- |
| Debe estar conectado para participar | |
| | |
| | | |
| --- | --- | --- |
| | Presentando la nueva GigaByte EP45 Extreme | |
Entrada
Hardcore Extreme Level

BNDMOD

Argentina

entradas: 10374

10:37 22/05/2008
Presentando la nueva GigaByte EP45 Extreme
As usual gigabyte is using the ferite core chokes, and low RDS mosfets. This means cleaner power delivered cooler. For overclocking this means when we are pushing high voltages and subzero temperatures we can depend on this board to continue supplying CLEAN power to our boards without the need for choke and cap mods.
The new heatpipe design is totally removable, so if you want to do subzero cooling you can remove it. The final design will have a water block attached to the northbridge, so you will have the option of the full cooling + water cooling, just water cooling, the tower-like heatsink or just the stock heatpiping.
Gigabyte are really getting advanced with their GREEN concepts. The dynamic energy saver is a new design concept from their P35/X38 boards and brings to the table new features. They have moved to a totally hardware solution that can dynamically reduce the phases used depending on cpu load and user configuation. Remember this is totally configurable so you can remove it if your overclocking or benchmarking. This feature will be available right through the new gigabyte range.
Yay, gigabyte have now added on board debug card and switches to the board. This brings them in line with industry standard overclocking features and is a big plus for enthusiasts. As you can see on this board there is a nice spacing between the 1 and 2 PCI-E slots to fit even the big gpu pots so you can do your crossfire benching on ln2.
This is worth a bigger picture! Take a look here at all the new memory timing and overclocking features that are new to the gigabyte range. This tells me they are getting serious with their enthusiast boards and are really looking at pushing the limits on new designs.
I really like the new easytune, there is alot of new features here. This really gives comprehensive control of all the voltages within windows which is something alot of top boards are missing. Very handy if you think a particular voltage is holding you back. Remember OVP on gigabyte boards doesnt kick in to about 2.3 now, so be careful! =)
and of course, I cant resist a few pictures from the event!
benching at gigabyte hq taipei, taiwan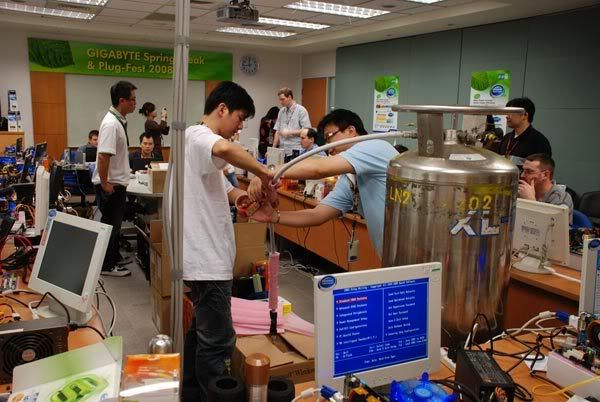 our drinking, park from korea, rado from romania and benny indonesia singing a number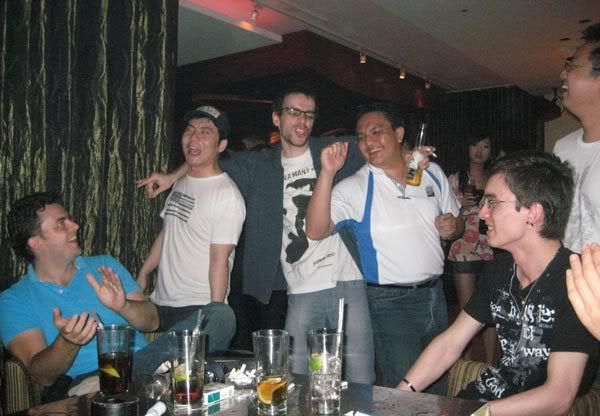 Fuente: XtremeSystems

….
:: I'm Watching you :: ….
Midle End Level

Marq

entradas: 154

10:59 22/05/2008
jojojo terrible partuza hicieron los ponjas
y q guasada, por dios!!! bendito el q pueda poseer algo como eso en su maquina
Extreme Level

Vegeta

Parque Patricios

entradas: 1236

11:19 22/05/2008
Hardcore Extreme Level

HDF_Aeronautica

entradas: 3592

11:50 22/05/2008
tanta disipacion necesitan los nuevos chipset? o es algo solo estetico? yo pensé que cada vez iban a calentar menos
PD: BND que tenes ahora? estas buscando algo asi?
Acer Aspire 5542-5241
: AMD Turion II X2 M500 2.2Ghz – 4Gb DDR2 800 cl6 – Ati Radeon HD4200 – WD 500Gb – LCD 15,6" WXGA
Hardcore Extreme Level

010101

Reconquista, Santa Fe

entradas: 6759

11:54 22/05/2008
no me gusto me parece una exageración eso …………… o sea la disipacion el mother parece lindo y excelente para oc extremos
Hardcore Extreme Level

Massimen

Rosario

entradas: 3160

11:55 22/05/2008
Hardcore Extreme Level

Zerocool65

entradas: 3091

12:13 22/05/2008
JAJAJAJAJA!!!!, me mato la nerdeada parrandeando despues de ocear. un c@go de risa.
Powered By: E7200 4ghz 1.37v +TT Big Typhoon VX Modded // DFI Lanparty P35 LT T2R // 2x2GB Corsair XMS2 PRO ddr845 4-4-4-12 2T // Sapphire 4850 X2 2GB // Creative X-Fi Xtreme Music + Panasonic-AK57// HD WD 3 x SATA 2 250GB 16mb buffer. // Razer Tarantula // Razer Deathadder // Tagan BZ Series 800W // Gabinete Cooler Master 690 Modded 90%.
Midle End Level

blaso

Capital Federal, Argentina

entradas: 358

12:33 22/05/2008
Ahhh, copadisimo mother, se esperan reviews, = quiero uno ya, el p35 me dio muy buen resultado, asi que este debe ser mejor todavia.
ya se consigue aca?
Midle End Level

infoimperio

entradas: 207

12:41 22/05/2008
Extreme Level

Vegeta

Parque Patricios

entradas: 1236

13:12 22/05/2008
hAY UNA CHINITA Q ESTA ESPETACTULAR EN LA FOTO.
Midle End Level

infoimperio

entradas: 207

13:18 22/05/2008
Extreme Level

rodrigo_mato

entradas: 1242

13:35 22/05/2008
Linda la giga pero no me gusto el disipador.
Extreme Level

msebis

entradas: 1907

16:55 22/05/2008
jajaja terrible partusa se armaron los ponjas! jajaja terrible
en cuanto el mobo.. me parecio exagerada su disipasion